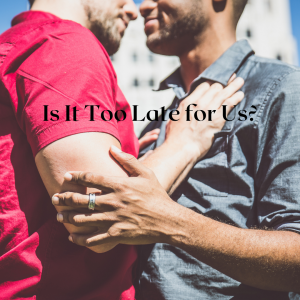 A continuation of "Past Present Future"
The Gulfstream G200 banked to the right, and Michael stared out the window at the floor of white fluffy clouds below. He couldn't see the ocean, and that was a good thing. The seat belt sign had gone off two hours ago, but the black strap was still secured tightly at his waist. And he'd wait until his bladder was set to burst before even thinking about getting up. At least he'd managed to keep his coffee down as the plane pitched and rolled during the climb to their cruising altitude. Turbulence wasn't just like 'riding down a bumpy dirt road,' like his grandmother had told him. Not when there was thirty-seven thousand feet between him and the surface of the Atlantic Ocean.
Michael flinched when the hand pressed down on his shoulder. He looked up to see those owlish grey-green eyes fixed on him. Despite what he wanted to believe, they still had a certain power over him. [Read more…] about Is It Too Late for Us?