"Goddammit, move!" Damien slammed his fist into the steering wheel. Traffic on the eastbound QEW hadn't moved in twenty minutes. The worst part was that he could see the exit for Islington Avenue, and that meant he was almost home. He turned on the radio and, searching for news, kept switching channels. No one talked about an accident, just the usual heavy rush hour gridlock. "Fuck!"
He'd been staying with Shane for almost a month, and waking up to those mesmerizing coffee-brown eyes made him smile. But the forty minutes added to his commute — most of that time spent parked on the highway — had him rethinking his decision. Well, not really. He wouldn't abandon Shane, not when he needed him the most.
"Hey, Siri, call Shane's mobile."
"Calling Shane Wright … mobile," the robotic voice said.
Like his three previous calls, Shane's voicemail cut in right away. Damien didn't want to admit it, but something was wrong. He knew as much by the way Shane, over the past few days, wouldn't look at him. And when he went to touch Shane — kiss him goodbye in the morning, reach for his hand, hug him when he came home — there was always resistance. More than that. Avoidance. The silence made his stomach churn. Shane, lost in his labyrinth, wouldn't let him in. Damien swallowed hard. When he thought about the past few weeks, and Shane being back on his meds, he wasn't sure that anything had changed.
Traffic began to move again. Fifteen minutes later, Damien pulled up next to Shane's black Matrix and scrambled out of the car. He jammed the key into the lock of the grey-brick house on Lake Crescent and opened the door. He roamed from room to room on the lower level, immured in a silence that had a metallic taste swirling in his mouth.
"Shane," Damien called out, mounting the stairs. "We don't have a lot of time if you want to get something to eat before the game." It took a lot of convincing, perhaps even begging, but Damien had finally persuaded Shane to go to a Raptors' game with him. It wasn't necessarily the date night he imagined, but he'd have done anything to get Shane out of the house.
Damien, at the end of the hall, pushed on the bedroom door that had been left ajar and entered the room. "Come on, sleepyhead," he said as he sat down on the bed and gently shook Shane. "You agreed to go, so there's no backing…" His voice trailed off when he saw the empty pill bottle on the nightstand. His mouth went dry as he placed his fingers on Shane's neck. He found a pulse … barely. He yanked his phone from his inside jacket pocket and dialled 9-1-1.
"Don't you die on me," he said, tears banking in his eyes. "I still need you."
He heard the sirens growing louder and, when it sounded like they were wailing inside the house, raced downstairs to open the front door. He led the paramedics upstairs and, back in the bedroom, watched as they worked on Shane. Damien couldn't stop crying because Shane never responded, never opened his eyes, never twitched.
The next thing he knew, Damien was climbing into the back of the ambulance, never taking his eyes off Shane. He found himself smiling and crying as he thought about the day they'd met and the rocky debut to their romance.
It'd happened two years ago at Mikey's, one of the less popular hangouts on Church Street. Damien, seated at the bar, didn't seem to blink as he watched the Penguins take on the Lightning in the Eastern Conference Final. At a commercial break, he drained his beer stein and that was when he saw the man at the other end of the bar. Something about him — the smooth caramel skin, the way he nursed his drink, his focus on the book he held in his hand — everything had Damien swooning. He slid off his barstool and walked over to the guy who he'd already decided would be his future husband.
"What's that you're reading?" Damien asked, his voice cracking.
"A book," was the curt reply.
"Right." Damien held out his hand. "I'm Damien."
"Good for you."
Damien started to walk away, then spun around. "Fuck you. I'm just trying to talk to you. You could say, 'Hey, not interested,' instead of being a world-class prick."
"You're right," the guy said, putting down his book. "I've had a crap day, but that's no reason to take it out on you. Shane." He extended his hand and, after a quick handshake, added, "Let me buy you a drink."
"I think a better apology would be dinner." Damien winked. And when Shane flashed him a broad, life-affirming smile, that was the moment he knew he was hooked.
The rapid beeping of the heart rate monitor made Damien look up. His gaze latched onto the flat line streaming across the screen.
"No shock advised," was the audible prompt. "Begin CPR."
Damien let go of Shane's hand and felt himself gasping for air as the paramedic began vigorous chest compressions.
"Stay with me," he said, wiping the tears from his eyes. "Please, stay with me."
As they sped through the city streets, Damien thought about God, salvation and eternal life. Now, he wasn't sure about any of them.
The Flowers Need Watering: A Novel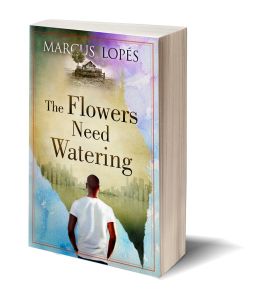 When Mateo's present and past collide, he's questioning everything he knows about family, friendship, and love. The biggest test is this: is he willing to forgive? Read The Flowers Need Watering today and find out! Available on Amazon.